On average, homeowners are staying in their homes longer than they used to, and this is one factor driving increased homeowner equity. When equity grows, selling a house becomes increasingly desirable. As average homeowner tenure lengthens and home prices rise, equity can be applied forward to the purchase of a new home. Increasing equity is enabling many homeowners who are ready to sell their current houses today to sell for an increased profit, and then reinvest their earnings in a new home.
If you've been thinking of making a move, determining your equity position is a great place to start. Understanding how much equity you've earned over time is a key factor in helping you realize the potential profits in your real estate investment and move toward your next homeownership goal.
Given how we have seen more unemployment claims than ever before over the past several weeks, fear is spreading widely. Some good news, however, shows that more than 4 million initial unemployment filers have likely already found a new job, especially as industries such as health care, food and grocery stores, retail, delivery, and more increase their employment opportunities. Breaking down what unemployment means for homeownership, and understanding the significant equity Americans hold today, are important parts of seeing the picture clearly when sorting through this uncertainty.
One of the biggest questions right now is whether this historic unemployment rate will initiate a new surge of foreclosures in the market. It's a very real fear. Despite the staggering number of claims, there are actually many reasons why we won't see a significant number of foreclosures like we did during the housing crash twelve years ago. The amount of equity homeowners have today is a leading differentiator in the current market.
Today, according to John Burns Consulting, 58.7% of homes in the U.S. have at least 60% equity. That number is drastically different than it was in 2008 when the housing bubble burst. The last recession was painful, and when prices dipped, many found themselves owing more on their mortgage than what their homes were worth. Homeowners simply walked away at that point. Now, 42.1% of all homes in this country are mortgage-free, meaning they're owned free and clear. Those homes are not at risk for foreclosure (see graph below):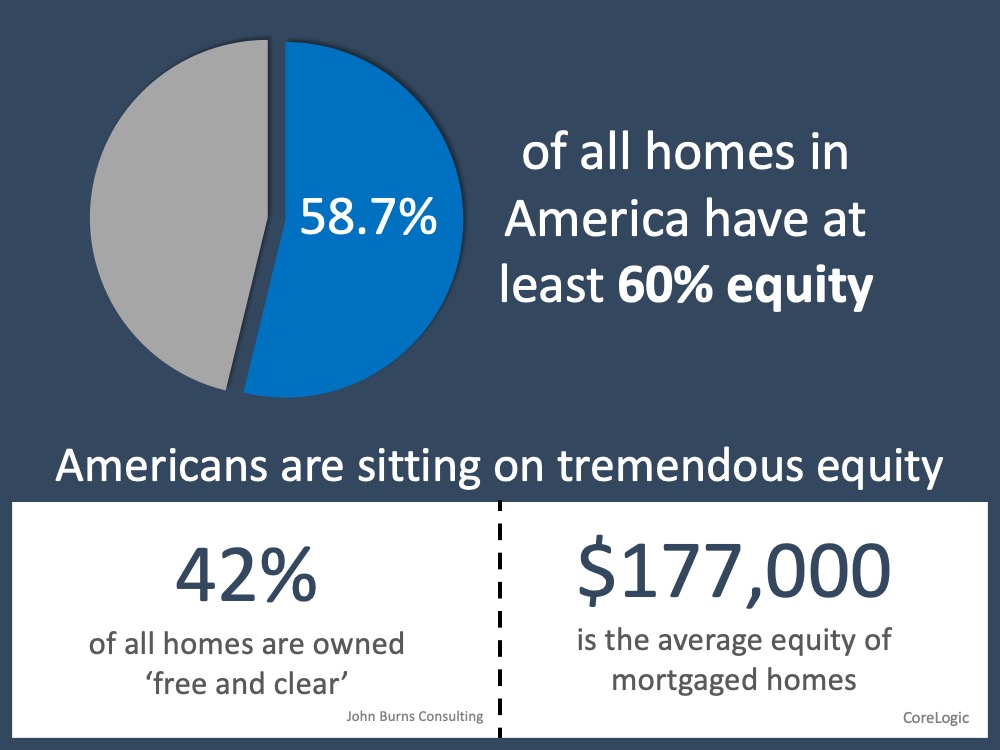 In essence, the number of equity homeowners has today positions them to be in a much better place than they were in 2008.
With average home sale profits growing, it's a great time to leverage your equity and make a move, especially while the inventory of houses for sale and mortgage rates are historically low.
If you're considering selling your house, contact the Diane McConaghy Team at RE/MAX Select Realty today so you can better understand your home equity position and take one step closer to the home of your dreams.